Child Dental Benefit Schedule (CDBS)
he Child Dental Benefits Schedule (CDBS) provides basic dental services to children aged between 2 and 17 years. Dental services are capped at $1000 over 2 consecutive calendar years. The 2 year cap period starts when a child or teenager first gets an eligible dental service.
The dental services covered in this program include:
Examinations and X-rays.
Cleaning.
Fissure sealing.
Fillings and extractions.
Root canals and partial dentures.
The CDBS DOESN'T cover orthodontic, cosmetic dental work, or dental services provided in hospital.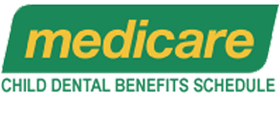 Check your Children's Eligibility
Call us on   07 5448 8628 and one of our friendly staff members will assist you to check eligibility with your MediCare number.
More information about CDBS please see:
Child Dental Benefit Schedule (CDBS)
We accept Department of Veteran Affairs (DVA) Gold cards for dental services including prevention treatment, all general dental services, the filling and crowning of teeth and the construction of dentures.
If you hold a DVA Gold or White card please call us at (07) 5448 8628 to book an appointment.

More information about DVA please see: